Debenhams have launched a competition for bloggers to come up with two
winter style looks. The participating bloggers must put together 2 mood boards showcasing a Winter Daytime Look and an Ultimate Party Look.
The lucky person who wins the competition will get £500 of Debenhams vouchers and 2 runners up will receive £50 vouchers each .
Here are the winter outfits that I put together.
Look 1: Winter Daytime Look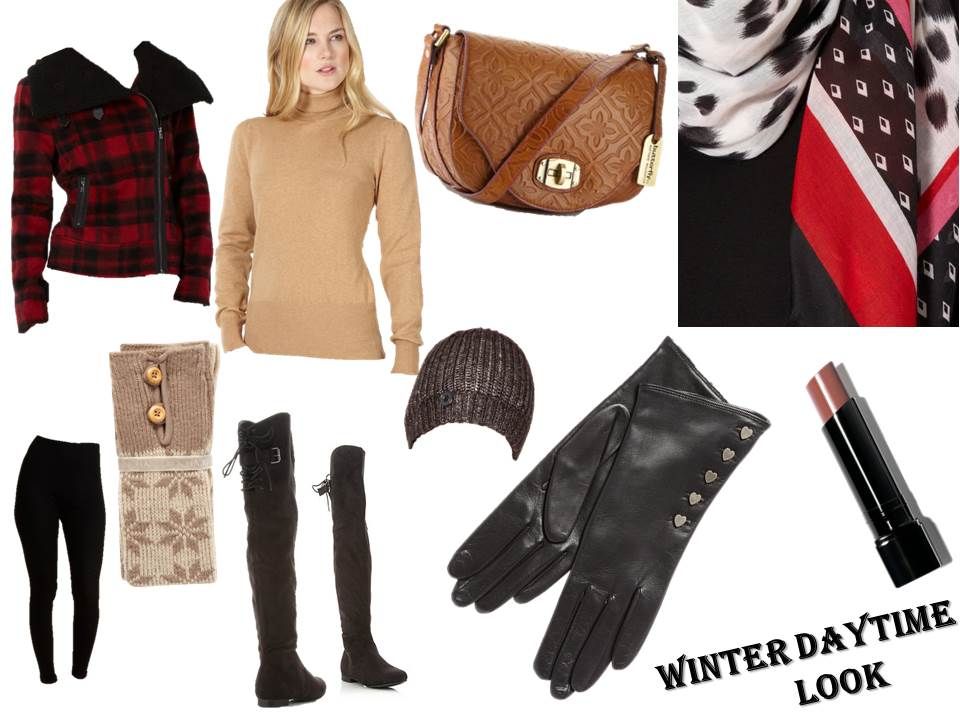 Red Herring Checked Biker Jacket £17.70 Red Herring Camel Roll Neck Jumper £8
Call It Spring Knee High Boots £21 Mathew Williamson Embossed Cross Body Bag £48.30 Red Herring Dalmation Border Scarf £7.50 Thermal Leggings £14 Rocha .John Rocha Knee Length Socks £8 Dents Black Leather Heart Button Gloves £32.50 Rocha.John Rocha Metallic Beanie Hat £11.20 Bobbi Brown Creamy Lip Color £18 - £19
= Total £187.20
You can wear this outfit for movie dates, lunch, brunch or running errands. The
red checked jacket is my way of injecting colour to my outfits during the winter,
as the season tend to be dull and boring. because of the chilly weather. To brighten up my mood, i always turn to red to do the trick.
The thermal leggings and knee high boots paired with socks will keep your legs
and feet warm. The leather gloves with heart buttons will definitely cheer you
up. Cross body bags are perfect for shopping dates or running errands.
Look 2: Party Look
Lipsy Lace Dress
£29
Miss KG Heels
£39
Oasis Faux Leather Biker Jacket
£35
Nails Inc Tate Nail Polish
£11
Dior Rouge
£26
Jon Richard Crystal Embellished Pear Drop Earrings
£5.40 = Total £134.40
As Karl Lagerfield famously said
"One is never over-dressed or under
dressed with a Little Black Dress."
This cowl back lace dress will get you a lot of compliments and make
other girls jealous. Add Miss KG heels,

crystal embellished pear drop

earrings,
red lipstick and you are ready to rock the party.
The leather jacket adds a tough and edgy look to the overall party look, so
nobody tries to mess around when they get tipsy after the alcohol consumption.
Rules of the Competition
Choose the outfit based on the women's clothes on the Debenhams website.

The budget for each winter look is £250.

Your entry must include the product name and price for each item you choose.

Create a blog post and then add the link to the entry in the comments section under either Natasha or Victoria's posts about the competition.

The competition will be judged by Natasha from Girl In The Lens and Victoria Vipxo
I am currently tight on money and need all the help i can get to make my pounds stretch that extra.
This is the first time i have entered a Fashion competition. I did face a lot of obstacles, for example; mid way through the preparation, my work got deleted twice. Then the laptop logged me off and started to shut down without any warning.
I was close to giving up. But for some reason, a voice inside me kept saying: you
can do it and here is my entry for the Debenhams Winter Style Challenge
.
What do you think of my selection of winter outfits ?
Would you wear this outfit to a party or for shopping date?
Please let me know your thoughts in the comment section.
If you would like to get involved in the competition, please visit Debenhams for all the information. The last date to submit your entries for the Winter Style Challenge is 13th January.
Thank you so much for your suggestions on the laptop and the tripod. I am still exploring. Hopefully, i will be able to buy soon.
Thank you so much for reading. Have an awesome weekend!